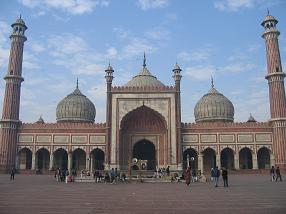 Given this blog's frequent interest in the relationship between religion and science, readers may be interested in a new
symposium
in Nature about science & Islam:
Walk down a street in some predominantly Muslim cities and the chances are that you'll see taxis and buses bearing in Arabic the words "Seek knowledge, even as far as China". Attributed to the prophet Muhammad, the words encapsulate two principles: the duty of Muslims to seek an understanding of God's creation, and to search for knowledge beyond Islamic cultures.

In an unfortunate contrast, across the Muslim world secular governments are giving way to more overtly religious 'Islamist' leaderships that suppress free enquiry and critical-minded scholarship. How very different from the great age of scientific study lasting from the eighth to the thirteenth centuries, when leaders encouraged science and when debate and disagreement were more highly valued. That history can inspire today's young Muslims towards scientific ambition. But there is a danger of such inspiration being thwarted by currents in contemporary Islamic thought and politics.