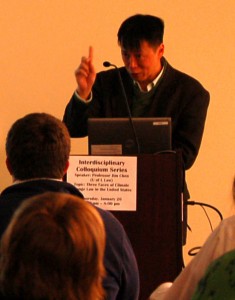 Courtesy of
Amira Asad's story
in the
IUS Horizon
, I am pleased to reprise my January 26, 2012, presentation,
Three Faces of Climate Change Law in the United States
, at
Indiana University Southeast
:
Managing global climate change is perhaps the most formidable scientific challenge facing humanity today. Climate change law is likewise extensive, sprawling, and unwieldy. This presentation will focus on three faces of climate change law in the United States:
Federal regulation after Massachusetts v. EPA (2007)
Climate change litigation after American Electric Power Co. v. Connecticut (2011)
Attacking emitters of greenhouse gases through public nuisance lawsuits
I also celebrated Constitution Day 2011 at IUS. I am very grateful for my special relationship with Indiana University Southeast. I especially thank Professor Bryan Hall for arranging both of my recent presentations at IUS.