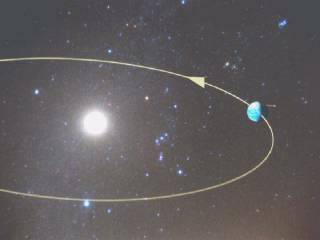 Cumulative Effects
By J.B. Ruhl
Move over Global Climate Change--Rapid Orbital Decay (ROD) puts you to shame.
Research to be published in the journal
Astronometica
next week discusses findings by researchers at the Canadian Solar and Planetary Institute (CANSPI) showing that the Earth's orbital decay rate has spiked in the past 50 years. All planets experience orbital decay, explained CANSPI research team leader Gustaf Housty, but "Earth's is getting out of synch. Basically we're falling into the sun faster than we should be. If this keeps up, we'll reach Maximum Critical Ambient Temperature (MAXCAT), the temperature at which life as we know it on Earth is no longer possible, about two billion years sooner than we should under natural conditions."
Researchers are still debating the cause of ROD, but the prevailing theory is...buildings. That's right, the accumulated effect of buildings, especially when concentrated in cities, has been to put some drag on Earth's rotational speed, which has a negative effect on orbital speed. Also, the weight of buildings has shifted Earth's overall center of balance, which has thrown us off orbit just a bit. But as Housty explained, "you don't have to alter these things much to get some pretty dramatic effects in terms of ROD."
According to Housty's model, if we were to stop erecting any new buildings today, ROD would continue and lead to Earth reaching MAXCAT in about 2.3 billion years, which is way ahead of schedule. If we were to keep erecting buildings at the current pace, however, we'll hit MAXCAT in about 1.2 billion years. Housty observed that "it may not mean much in the next 100 years, but I wouldn't want to be around in a billion years. It's going to get really hot."
Policy makers have responded quickly with ideas for how to reduce ROD. One idea is to require new buildings to purchase height and weight offsets. For example, Mountain Removal Offsets (MRO) would involve removing mountains in major ranges such as the Alps to offset rotational drag. For obvious reasons, China, Switzerland, and Chile are looking into this option. And Weight Balance Offsets (WBO) would involve creating low-lying expanses of heavy materials in strategic locations to counter urban building weight. One possibility is to create vast fields in the Outback and Sahara of spent nuclear waste "pancakes" (uranium is very heavy) encased in lead.
The U.S., a leader in market-based approaches, is proposing that anyone who takes down a tall building could sell Building Removal Credits (BRC) to others. The goal of the BRC program, says State Department spokesman Kevin Feerble, is "No Net Buildings." But the Europeans are arguing for taking us back to the building levels of 1950, which would add another 500,000 years until MAXCAT. EU Transportation Directorate Underdirector Max Von Hop suggested that "it's really not too much to ask that we cut back to 1950 levels to buy future generations another 500,000 years, is it? The U.S. needs to move off the No Net Buildings message soon."
As one might expect, the building industry already is trying to debunk Housty's model. Indeed, Professor Conradi Fiabilite of Itlay's prestigious University of Construction and Physical Sciences argues that Housty's model fails to account accurately for the cooling of the Sun. As he explains, "the problem isn't MAXCAT, it's MINCAT. We're all going to be popsicles in about 1.6 billion years. Look at Mars." But Fiabilite does credit Housty with finding the link between buildings and the Earth's orbit. He envisions us placing huge blocks of heavy material on barges in the oceans and moving them strategically to "steer" Earth between MAXCAT and MINCAT for billions of years. According to him, "someday we'll be orbiting next to Mercury as the Sun is on its last gasps, but we'll be fine. Buildings and floating 'orbital adjustment structures' are going to save us."
Then there's the argument being made by Justin McHatcherty of the Bioevolutionary Research Center in Seattle that none of this is very meaningful. He explains that "under any of these models, ROD is still happening so slowly that we'll naturally evolve to adapt to changing temperature. We'll get much smaller over time, maybe back to prehistoric size, and live in underground cities where the temperature is constant. We'll be much smarter than prehistoric humans, of course, so they'll be nice cities." Overall, therefore, McHatcherty is more concerned about the immediate effects of Global Climate Change, which is likely to happen faster that we can adapt.
Clearly, Housty's research is likely to spark a lot of debate over the next several years, which I will keep covering here. Have a nice day.